Satish R. Tiyyagura, MD, FACC, FHRS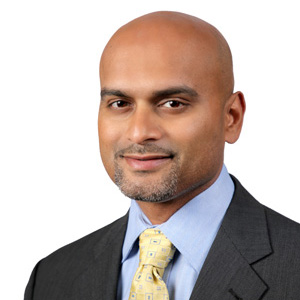 Locations
Satish R. Tiyyagura, MD, FACC, FHRS
Electrophysiology, Cardiology
Satish Tiyyagura, MD is board certified in cardiovascular disease and clinical cardiac electrophysiology. He received his medical degree from Jefferson Medical College in Philadelphia, and completed his internal medicine residency at Thomas Jefferson University Hospital, also in Philadelphia. Dr. Tiyyagura then completed specialty training in Cardiology and Cardiac Electrophysiology at Mount Sinai Hospital in New York.
Dr. Tiyyagura has been in practice in New Jersey since 2009. He has multiple publications and has been actively involved with clinical research trials. Dr. Tiyyagura specializes in all aspects of cardiac electrophysiology and performs many procedures, including Watchman implants, leadless pacemakers, lead extractions, ablation procedures for atrial and ventricular arrhythmias, pacemaker and defibrillator implantations, tilt table testing, loop monitor implants and cardioversions.
"My goal is to help people feel better by providing advice, and when needed, procedures to improve their health and sense of well-being."
Clinical appointment:
Director of the Electrophysiology Laboratory at St. Joseph's University Hospital, since 2013
Academic appointments:
Assistant Clinical Professor of Medicine, Icahn School of Medicine at Mount Sinai Hospital, NY.
Member of the teaching faculty for the Cardiology Fellowship Program at St. Joseph's University Hospital.
Involved with teaching Medical Students, Medical Residents, and Cardiology Fellows at St. Joseph's University Hospital.
REVIEWS:
★★★★★
Jeff Wallace
"Dr. Tiyyagura is one of the best in his field. He takes the time to listen to your concerns, explains things thoroughly, and has a very calming demeanor about himself. I went for a heart rhythm issue and Dr. T explained everything and the several options I had. I feel like I have my normal life back again because of him (a big thank-you). His nurses and office staff are also amazing. I have nothing but great things to say about Dr. Tiyyagura."
★★★★★
Laura Caporaso
"I've been seeing Dr Tiyyagura for about two years now. His office staff in Fair Lawn is wonderful, everyone is so friendly and helpful. They make my entire visit from start to finish a pleasant experience. When I first met Dr Tiyyagura he immediately put me at ease with his calm demeanor. He is a thorough, attentive and kind doctor. I am so thankful he was recommended to me by my primary care physician. And most importantly he cured the condition I came to him for with his expertise and skill in electrophysiology. I myself am a health care professional and would recommend him to my patients, friends and family."
Certifications
Board Certified: Nuclear Cardiology
Board Certified: Cardiovascular Disease
Board Certified: Internal Medicine
Board Certified: Clinical Cardiac Electrophysiology
Publications
Awards
NJ Top Doctors , Healthy Living Magazine, 2021
Top Doctors , NY Metro Area (book series), 9th edition
Top Doctors , Jersey's Best Magazine, 2015 - 2020
Top Doctors , New York Metro Area (digital guide), 2016-2021
Top Doctors , New York Magazine, 2021
Top Doctors , Castle Connolly, 2020 - 2023