Priya Sivaraman, MD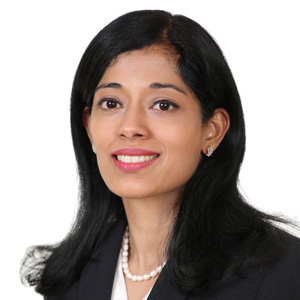 Locations
Priya Sivaraman, MD
Family Medicine
Priya Sivaraman, MD is a board certified family medicine physician who received a medical degree from Stanley Medical College in India. She completed a family medicine residency at the University of Virginia in Lynchburg, VA, where she was chief resident. Dr. Sivaraman's philosophy is to establish a rapport with her patients and involve them in the decision-making process, helping them to make informed decisions. She provides the full scope of care, from pediatrics through geriatrics.
"I practice evidence-based medicine and therefore keep up with the latest updates and clinical guidelines. I particularly enjoy preventative cardiology including management of diabetes, hypertension, and hyperlipidemia as I feel an ounce of prevention worth pounds of cure. I look forward to meeting you and your family."
REVIEWS:
★★★★★
Michael Ward
"Dr. Sivaraman has been my GP for about 10 years. She queries and listens well and is extremely patient and truly cares for her patient's well being. I highly recommend Dr. S!"
★★★★★
Sandeep Raul
"Had first experience on virtual visit with Dr Priya. Amazed to see patience in explaining the cause and how to take precautions to prevent skin rash that i was having over a month. Gave tons of information that answered my all queries. Added her as my primary care provider :-)"
★★★★★
D Smith
"Very thorough and sweet as well. Always answers any questions you may have"
★★★★★
gisela Otero
"The best doctor i've ever met!"
★★★★★
rucha shiradhonkar
"Dr Priya is a very good doctor. Her attention to detail is commendable. Staff is cooperative.In case of questions she is accessible through her mobile app. She helped with my diagnosis and treatment. Will highly recommend her"
Certifications
Board Certification: Family Medicine
Languages