Ibrahim S. Khaddash, MD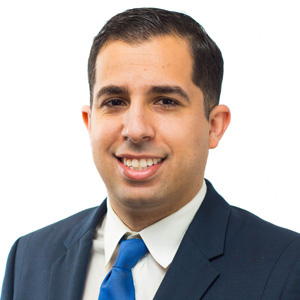 Locations
Ibrahim S. Khaddash, MD
Cardiology
Ibrahim Khaddash, MD received his medical degree from Ross University School of Medicine and did his residency in internal medicine and a fellowship in cardiovascular disease at St. Joseph's Regional Medical Center, an affiliate of New York Medical College, in Paterson.
Dr. Khaddash diagnoses and treats all forms of adult heart disease and is committed to cardiovascular disease prevention. He spends time to formulate a treatment plan that focuses not only on medications but also lifestyle changes. Always striving to provide first class service and doing his best to make sure his patients not only have great outcomes but also great experiences.
Dr. Khaddash grew up in Wayne, NJ and is proud to serve his local community in northern New Jersey. Outside of medicine, Dr. Khaddash enjoys spending time with family, traveling, and experiencing new cultures. He is an avid sports fan and will cheer on his alma mater, the Seton Hall Pirates. He is also a member of the National Arab American Medical Association.
REVIEWS:
★★★★★
Maria ortiz
"I love him he a great doctor"
Certifications
Board Certified: Cardiovascular Disease
Board Certified: Nuclear Cardiology
Board Certified: Echocardiography
Board Certified: Internal Medicine
Languages
Videos