Ruta Bondarenko, DNP, ANP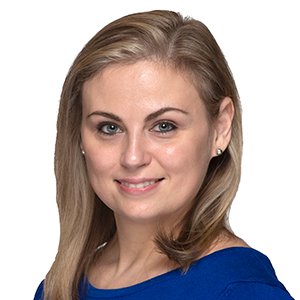 Locations
Ruta Bondarenko, DNP, ANP
Gastroenterology
Ruta Bondarenko, DNP, RN, APN, NP-C is an AANP board certified Adult Nurse Practitioner who has been a Nurse Practitioner since 2013, and a Registered Nurse since 2009. She earned her doctorate (DNP) degree from Drexel University in 2018, graduating summa cum laude. She earned her Bachelor of Science and Master of Science in nursing (with a minor in nursing education) from William Paterson University, graduating with high honors.

Ruta Bondarenko developed her expertise as a NP practicing in diverse settings: adult primary care, college student health, post-ER follow up via telemedicine to fill patient care gaps, and in the classroom as a nursing professor for baccalaureate-level nursing students. Her career began working as an NYU Medical Center critical care RN and transporting critically ill patients via ambulance.

Her passion and specialization for gastroenterology started in January 2020, and grew throughout the COVID-19 pandemic. She recognized her patients' need for guidance, education, and preventive care, including lifestyle changes and nutrition. She treats patients with a wide variety of gastrointestinal issues, together with liver disease and autoimmune GI disorders.