Shaileja Pamnani, MD, MPH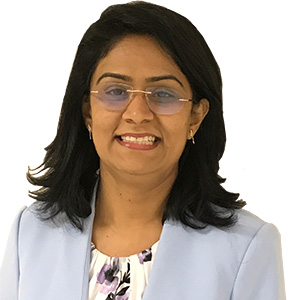 Shaileja Pamnani, MD, MPH
Shaileja Pamnani, MD is a board certified internal medicine physician who received her MBBS from Bharati Vidyapeeth Medical College, Pune, India, one of the finest colleges of western India. Dr. Pamnani then completed her combined internal and preventive medicine residency and was awarded a full scholarship to pursue a Master of Public Health degree at Yale University.
Dr. Pamnani feels that listening to patients and making them feel cared for and giving quality care while devising the right diagnostic and treatment plan is of the utmost importance for a hospitalist. She strongly believes that great communication skills in addition to sound clinical acumen are critical to a good hospitalist. Outside of work, she is strong advocate of daily yoga and breathing exercises, loves spending time with her family, is a trained Indian classical dancer, and enjoys her time at the health club.
"As a hospitalist, I will be leading the medical team throughout your hospital stay. I will be devising a treatment plan, educating patients regarding their medical conditions, and coordinating with various consultants to ensure quality patient care. I will work in collaboration with your primary care provider upon discharge to ensure a smooth transition and continuation of your care."
Certifications
Board Certified: Internal Medicine
Awards
Young Scholar Award , American College of Physicians, 2018